I'm reviving my old interview series 5 Questions & 1 Confession, and our first victim is
Kathryn Rose
! She's the author of the YA fantasy
CAMELOT BURNING
, which came out last week. If you like steampunk, King Arthur retellings, and heroines who don't need a hero to save them, you should definitely check it out!
Where did you get the idea for your book?
I was reading a lot of steampunk and considering writing one myself, but I couldn't find a hook unique enough. Then one night I was watching KNIGHTS OF THE ROUND TABLE, a 1950s BEN HUR-esque sweeping epic, and I thought Merlin would make a really badass steampunk character and started plotting that night.
Where do you do most of your writing?
In my home office, which I lovingly call "the nook," wearing headphones and with a blanket wrapped around my feet. My cat and dog usually keep me company.
What movie or tv show do you wish you could adapt into a MG, YA, or NA book?
Oh, that's a good question. SHERLOCK would be fun. Or maybe DOCTOR WHO? Or DOWNTON ABBEY. With a side of DOCTOR WHO. YES. That. Can I do that?
What advice do you have for new writers?
Write a lot, consistently, and read a lot, consistently, and keep doing that forever.
What were you like as a teenager?
I was a bit dark and emo. I wrote a lot of bad poetry in the margins of my school planner, wore a lot of dark colors (still do, I suppose), and at many times, felt invisible, but had--and still have--a great group of friends to lean on. My English teachers loved me, and one of my favorite things in school was essay writing.
Tell us something geeky about yourself:
I have VHS recordings of the first six seasons of THE X-FILES back home in Canada somewhere and rewatched episodes all the time because THE X-FILES is fabulous. I stopped recording after season six because the show got bad, but I own the first movie and pretty much know it by heart. (I don't own the second movie because in my mind, it doesn't exist, OMG it was so bad.) Team Scully for life.
Wow, I had no idea you were such an X-FILES addict! Thanks for the interview, Kat! Make sure you check out her book
CAMELOT BURNING
, out now! You can also enter to win the book: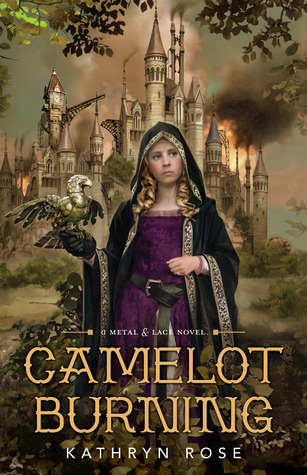 Enter to win